Potential Growth with Expert General Contractors - Your Path to Success Starts Here!"
Unlock the full potential of your HVAC contracting business with expert general contractors. Build your website and pave your path to success with our specialized services. Get started today and take your business to new heights with Combat Contractor Marketing.
Lead-Generating Websites for Contractors
Maximize your digital marketing strategy with our custom solutions tailored to your goals, industry, and target customers. From website creation to timely execution, we'll help you generate leads and achieve success in your contracting business. Partner with us at Combat Contractor Marketing for unparalleled results.
Attract More Leads with a Professional Contractor Website
A well-designed website that showcases your expertise and experience can help you convert more visitors into paying customers. By highlighting your services, portfolio, and customer reviews, you can establish trust and credibility with potential clients. Moreover, by adding clear calls to action, you can guide your visitors toward taking the next step and contacting you for a quote.

Maximize your online presence
•Appear where your customers are searching •Outperform your competitors •Target only the most relevant and interested buyers •Reduce your overall cost per acquisition

Nurture Your Leads
Use a customer relationship management (CRM) system to manage your leads effectively • Personalize your communication with your leads to build trust and rapport • Provide educational content that addresses their pain points and helps them make informed decisions

Differentiate Yourself from Your Competitors
• Conduct market research to identify your unique selling proposition (USP) • Emphasize your USP in your marketing efforts to stand out in a crowded marketplace • Deliver exceptional customer service to build a loyal customer base
Ready to dominate your competition
Combat Contractor Marketing: A Trusted Partner for the Best in the Business
As an HVAC contractor, your business success depends on having a strong online presence. Combat Contractor Marketing is the trusted company that can help you achieve this. We specialize in creating high-quality, professional websites that showcase your services and expertise while driving leads and increasing revenue. Our team of experts understands the unique needs of HVAC contractors, and we can work with you to design a website that meets your specific needs and goals. With Combat Contractor Marketing as your partner, you can be confident that you're working with the best in the business. Don't wait to take your business to the next level – contact us today to learn more about how we can help you succeed.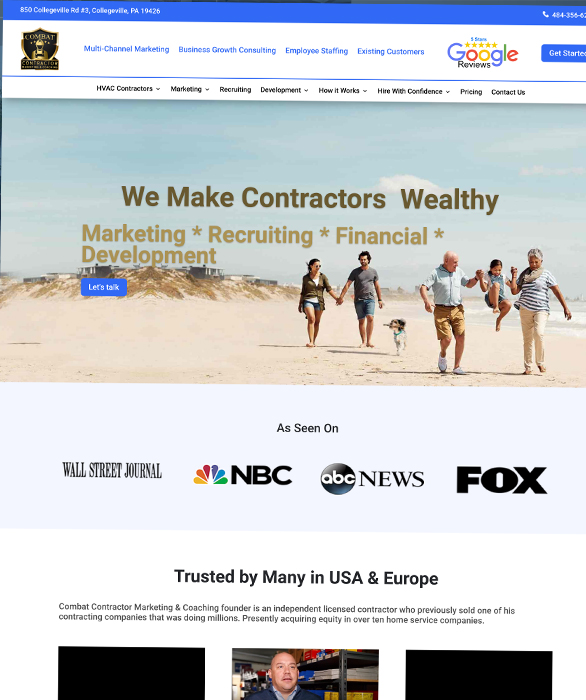 Our clients think we're pretty ok
Combat Contractor Marketing helped me take my HVAC business to the next level with a professional website that showcases my services and expertise. Their team of experts understood my unique needs and goals and designed a website that exceeded my expectations. I have seen a significant increase in leads and revenue since partnering with Combat Contractor Marketing, and I highly recommend their services to any HVAC contractor looking to enhance their online presence."
Ready to talk with a marketing expert? Contact us today!